Mini Concrete Batching Plant is widely popular because they are easy to install, have low maintenance cost, and are engineered for trouble-free performance. Four-wheeled mini concrete batching plants are designed to produce a concrete mix, at a designated time and place . They usually come with an auto control design that turns the system on or off at a flick of a finger.
Contractors who want a good quality concrete mix, without sacrificing mobility, normally opts to use the mini concrete batching plant. These mini plants can work non-stop at various construction sites. The quality is at par with the bigger models in terms of durability and accuracy. The mixed material can be produced within a short time period and at acceptable standard levels – the main reason therefore, Why mini portable concrete plants are so Popular to contractors.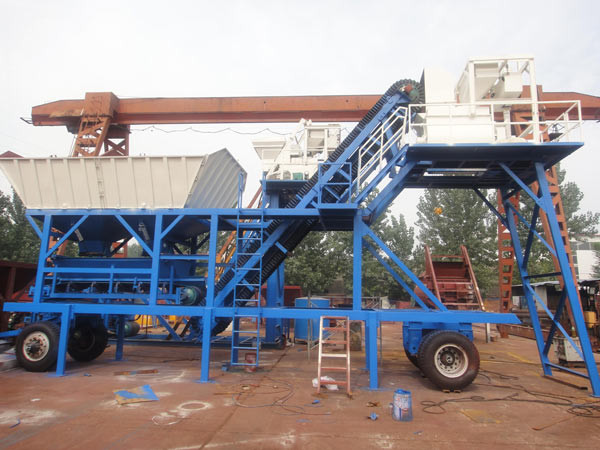 The basic design for the mini version of the concrete batching plant consists of hydraulic pumps that are highly accurate. It is easy to navigate since the control panel is ideally located where it can easily be maneuvered. It is low maintenance, and does not require skilled labor to operate. All safety options are in place and can be adhered to without much difficulty.

Why Mini Concrete Batching Plant is so Popular Worldwide?

The mini concrete batching plant is a recent innovation which is much smaller in size than the standard cement mixing plant for sale. Its small frame covers a smaller space; hence, reduces total construction expenses. This adaptability to worldwide scenario,makes this mini plant popular to users all around the world.

What Are The Main Components of the Mini Concrete Batch Plant?

—Aggregate or cement storage silos with individual loading capacities, accurately weighs all the materials. After weighing, all weights are displayed in the control panel. The feeder is also equipped with a motor that efficiently discharges all the mixed materials.

—Mixing drum is a gear connected to the batch motor by means of a V-belt pulley. It helps minimize vibrations so as to lessen maintenance costs. Good mixing at the least possible time, is the best way to tell whether you have a good mixing drum.How much water you need to fill in the drums can also be determined by the controls that you see on the panel.

—Control Panel is the heart of the batching mix. It is the most important component of the plant. The operating procedures and electrical controls are controlled by the panel board. In short, all the concrete parts of the batching mixer are lubricated through a single lever found in the control panel.

A Recap on Why Mini Concrete Batching Plant is so Popular Today?

The reason why the mini batching mixer has become so popular is due to its flexibility. You can put it in any place where it is needed. Being small, it requires a small space, thereby reducing cost for many construction companies. The mini version is similar with other concrete mixing plants, like this: http://www.concrete-batching-plant.net/. It is most suitable for small to medium-sized construction sites and can mix all kinds of concrete and mortars – materials which are needed to fuel on-site constructions around the world.